Michael Shea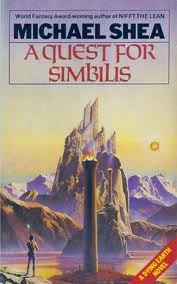 I first discovered the writings of Michael Shea with A Quest for Simbilis, in 1986. Already a fan of Jack Vance, I saw the blurb on the Grafton edition, calling it "A Dying Earth novel." Shea was playing in Vance's world, writing his own sequel to The Eyes of the Overworld. I am not sure if by then I read The Eyes of the Overworld, but I had read The Dying Earth and a couple of other Jack Vance books. I knew that I liked that style and setting, and Grafton's covers that time looked fantastic.
In A Quest for Simbilis, Shea picks up where Vance left off, with Cugel the Clever dropped back where he started, on the distant shores of the Sea of Cutz. Vance later would write his own sequel, Cugel's Saga, which took a very different direction, as expected. The text seemed slightly richer and more decadent than Vance, but the style and plot appealed enough so that I started looking for other books by Shea.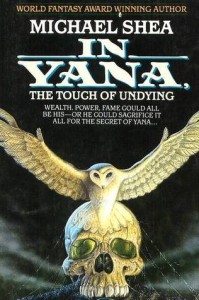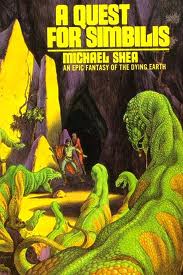 The next one I found was In Yana, The Touch of Undying, published in 1985 and still in bookstores in 1986. With In Yana, I encountered Shea's own voice for the first time, as Simbilis owed much to Vance. Demons and underworlds, witches and wizards, all tinted with cynicism and deviousness I hadn't yet encountered in fantasy novels. I unwittingly had discovered pulp fiction decades after it first appeared, and it opened the way for other writers like Clark Ashton Smith and Fritz Leiber. I didn't care too much (then or now) for "epic" fantasy. Rather than an ensemble cast who rose and fell over multiple volumes, I liked more individual tales.
Later, I found a book published in 1982, yet superior to the other two: Nifft the Lean, with a blood red, almost garish cover. Nifft comprised four connected stories about a thief and adventurer. The title of each story contained almost as much life and imagery as the stories themselves: "Come Then, Mortal. We Will Seek Her Soul", "The Pearls of the Vampire Queen", "The Fishing of the Demon-Sea", and "The Goddess in Glass". The first story, where Nifft and a companion wander into the underworld harkens back to Homer, with a dash of Hieronymus Bosch. The book seemed to be in the same vein as Fritz Leiber's Fafhrd and Gray Mouser stories, as well as some of Clark Ashton Smith's tales, and even traces of Robert E. Howard and other masters of pulp, but far more polished, in my opinion. Nifft the Lean won the World Fantasy Award, and later appeared in a gorgeous limited hard cover edition, bound, as the publishers stated, in demon skin.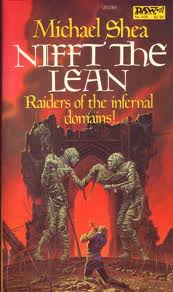 Around the same time as I found Nifft the Lean, I learned that A Quest for Simbilis originally appeared in 1974 when I found the DAW edition in a used book store. This paperback original is fairly hard to find. Sadly, the cheap printing method, along with time, has caused yellowing of the cover and some pages. Shea also had written The Color Out of Time, also inspired by another master, this time H. P. Lovecraft's story, "A Color Out of Space."This book also was published by DAW, then one of the premier publishers of science fiction and fantasy.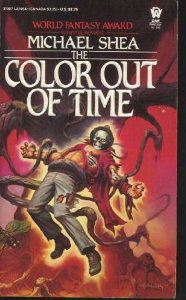 Shea didn't seem like a prolific writer, but that made the effort of locating his books and reading them more rewarding for me. This was not a case of a new book per year, although that's not necessarily a good or bad thing.
In 1988 I acquired the Arkham House collection Polyphemus, my first Arkham House book. At that time $16.95 seemed like a lot to pay for a book, used as I was to buying used paperbacks by the stack for $1 each. Shea didn't just write novels, but some excellent short stories as well. Polyphemus brought together seven stories, six of which were new to me; the collection reprinted "Pearls of the Vampire Queen" from Nifft the Lean.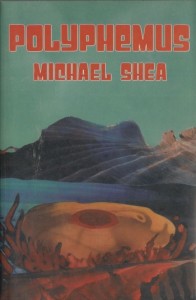 In the early 1990s I acquired a trio of chapbooks. "I, Said the Fly" from Silver Salamander Press; "Fat Face" from Axolotl Press, and "Fill it with Regular," bound with stories from Lucius Shepard and Jessica Amanda Salmonson. These usually appeared in several different states, from hardcover to softcover. Some were signed and numbered, others just signed.
Later on I would attempt to find all of Shea's unpublished short fiction. With the exception of two stories what I've never located, I think I've read all his fiction. A near-complete collection of his short fiction came out in 2008 (see below). Sadly, this collection lacked the two stories I had not found, so those holes remain.
Returning to earlier works, Shea published two more novels starring Nifft the Lean: The Mines of Behemoth (1997) and The A'Rak (2000). Perhaps not as memorable as the first book, they still bear his trademark style and imagination.
Centipede Press published the near-exhaustive collection, The Autopsy and Other Tales in 2008. This massive tome stands 11 inches high, and runs almost 600 pages. With the exception of two stories, this is the most complete collection of Shea short fiction in existence.
One of the stories collected in Polyphemus was called "The Extra," about people hired as extras on a movie set, battling animatronic spiders that really kill the cast. Shea expanded this story into a novel, The Extra (2010), which seems ever more gory than the original story, and hinted at the end about possible sequels.
Many of Shea's stories have a Lovecraftian feel, such as "Fat Face". A handful of such themed stories was collected in Copping Squid (2009), published by a small press with an Arkham House connection vis S.T. Joshi.
**This page will continue to grow as I write more thoughts about Shea's books and stories.